Hey world, how ya doin'? What me? Oh I'm grand thanks for asking! Just grand.
Last week got off to a rocky old start with the journal. I don't want to speak ill of the dead, but it just seems like the chaos of a fractured mind.
I realised on Tuesday evening that I'd been obsessing about the journal way too much. I should give Monica a call to let her know that I got the stuff, but the week has been blur. Between my journal obsession and… other things, I've not really had the time. You know when you meet someone and you just seem to hit it off straight away. I think that's how I feel. I've made a connection with someone that I haven't had since… well, I was going to say David, but to be honest I don't think I really had that much of a connection with him.
Once I'd relaxed (and had a few calming, cheery chats with my new friend) I flipped through the journal again, no longer looking for anything, just looking at it for what it is… and I found a few more readable passages…
40.233986

"Set forth from the heart of a wishing well to find the knight who rests ascended o'er four thousand thoughts away"

-17.733251

NU1833034971
And this little figure caught my eye: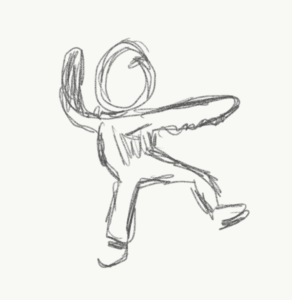 I had to trace him myself because the pages still don't show up in pics…
I don't know why, but there's something about the little guy, yeah? But here's the odd thing… I can't find the bits of the chicken and fox story now. ???
I can't let this set me back. I wasn't even expecting the journal in the first place. I have a proper plan and I'm going to stick to it. Ackerly Green 2017!
The city is amazing this time of year. Magical. London at Christmas is wonderful too, but it's a different kind of wonderful. Here, this just feels like it's where Christmas belongs. I was beginning to dread being at home on my own this weekend, but now I'm actually excited about it. I'll have a lie in, treat myself to breakfast over Skype with Mon and then head out into the city for a walk with Tori Amos Midwinter Graces on repeat. Maybe make it all the way to Rockefeller Center? (Look at me, a true New Yorker now, I think midtown is much too far.) Then I can round the day off with BBC iPlayer (thank heavens for VPN!) to taste a little more of my old home.
As they say here: Happy Holidays!
DGx